Head to Shawnee State Park & Lodge for an early May weekend getaway while foliage is still minimal to view the first wave of neotropical migrants such as Cerulean, Worm-eating, Hooded, and Kentucky warblers (to name a few). Friday kicks off with registration from 4 p.m. until 7 p.m, then dinner (on your own; the lodge has a bar and restaurant onsite). Naturalist Jenny Richards will share why Southeastern Ohio is a biodiversity hotspot. Afterward, carpool to locate night birds, including American Woodcock, Whip-poor-will, and Chuck-will's-widow, or visit the mothing station at the cabins.
Saturday begins with a hot breakfast buffet ($15/person) before half-day guided field trips* from 7 a.m. to 2 p.m., with optional $12 lunches served in the field. Reconvene at the lodge for a buffet dinner (included with registration). Guest speaker, ornithologist Jack Stenger, will speak on the topic, "Shawnee's Warblers: Natural History for an Un-Natural Future." We'll also hold a raffle and go over the day's bird sightings. Once again, carpool to find night birds, or vist the mothing station.
We will wrap up on Sunday, starting with a hot buffet breakfast at 6 a.m. ($15/person), followed by half-day guided field trips* or exploring on your own. We will offer sign-ups for these field trips during registration and Saturday dinner.
Click here for Field Trip details
*Note that only registered attendees may participate in field trips.
Calling Young Birders!
OOS encourages young birders to attend Warblers & Wildflowers 2020.
All young birders (age 18 and under) will receive free registration and meals.
Young birders under 18 must attend with a registered parent and be accompanied by parents on field trips.
About Our Guest Speakers: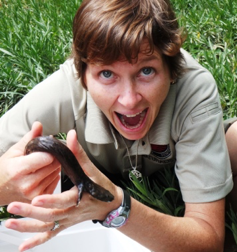 Jenny Richards grew up on the edge of Shawnee Forest exploring the outdoors with her family. She obtained her B.S. in geography from Ohio University, traveled and worked abroad and returned home to land her dream job as an Ohio State Park naturalist in the very forest she was raised. She loves sharing her passion for the great outdoors with everyone she meets.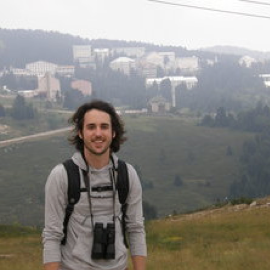 A native Ohioan, Jack Stenger has been an avid birder for more than 20 years. A Ph.D. candidate in biology at the University of Cincinnati, he has taught ornithology there for four years. In "Shawnee's Warblers: Natural History for an Un-Natural Future" Jack will explore the meaning of "natural." Definitions of "natural" are typically based on reference to historical benchmarks, but which timescales are relevant? And will they continue to be relevant in a rapidly changing environment? Jack will explore these topics using observable examples from Shawnee State Forest's warblers and wildflowers.
Accommodations & Rates:
Shawnee Lodge & Conference Center
Single or Double Occupancy Rooms – $109/night  – Two-bedroom Cabins – $144/night
(Rates effective through 3/20/20)
Contact the lodge directly to reserve your room:
(740) 858-6621 http://shawneeparklodge.com/ Code: OOS
Every room rented helps OOS keep conference fees down and gives more $$$ to conservation!
Registration:
OOS members: $95 per person ($115 after April 10), includes field trips, speakers, and Saturday evening buffet dinner
Non-members: $130 ($150 after April 10) per person, includes all of the above plus a 1-year membership in OOS
$12 Saturday box lunch
$15 each, Saturday and Sunday morning hot breakfast buffet