Reporting a Rare Bird Sighting
Part of the excitement of birding comes when we find something unusual, something rare or unexpected that we can relish and share with others. But telling others about your finding, in person or on the internet, is fleeting. Even more important, for the ornithological record, is documenting your record in a permanent way. Reports of rarities, when they can be authenticated and published, help to fill out the total picture of our local avifauna. As records, they can help us all to recognize habitats, regions, or seasons in which scarce species are most likely to be found.
The ORBC reviews sightings of species that constitute a first state record or are on the list of review species for the state of Ohio. For a list of review species, click here.
Tips on Documenting Bird Sightings
Why Submit Documentation?
Any scientific report of an unusual phenomenon must be supported by documentation: that is, verifiable evidence reported and vouched for by a first-hand observer, submitted for peer review before acceptance and publication. In general, the rarer and more interesting the occurrence, the more important it is to document and verify it for the record. You may complete the online form below, or print and send in the online OBRC Submission Form. 
The Importance of Chimney Swift Conservation
Chimney Swifts have declined by over 50% in just the last 40 years. Chimney Swifts can be helped by making chimneys accessible for the birds or by building Chimney Swift Towers – specially designed nesting/roosting towers.
WHAT YOU CAN DO TO HELP
Plant native trees, shrubs, flowers and grasses that attract more insects than non-native plants. Chimney Swifts feed exclusively on flying insects which are crucial during the breeding season.
Investigate an alternative venting system if you are converting a furnace or hot water heater to gas, leaving the chimney unlined and uncapped for the swifts.
Work with an experienced chimney sweep company that can speak to the issue of Chimney Swift conservation and chimney maintenance.
Encourage your neighborhood parks, schools, and businesses to build chimney swift towers.
Work with local conservation groups to raise awareness of the need for uncapped chimneys for Chimney Swift conservation.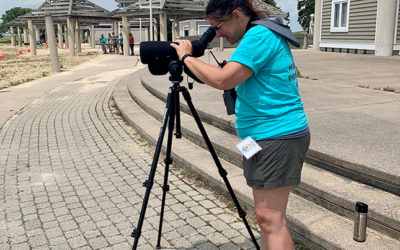 OOS Northeast Regional Director, Diana Steele, monitors newly banded piping plover chicks during a volunteer shift 7/15. "PIPL HQ" is visible in the background. Photo by Mandy Roberts.A July 10 New York Times article, "There's a Specific Kind of Joy We've Been...
read more