In May 2019, I graduated from The Ohio State University with a B.Sc. degree in Wildlife Science, and immediately began working for Black Swamp Bird Observatory as their spring bird banding apprentice. After that I moved to Wisconsin for a few months to work with Kirtland's Warblers… and then to New Jersey to work as a banding technician… and then to Brazil to help with some Semipalmated Sandpiper research… and then to Texas to work as a bander on a Golden-cheeked Warbler research study… and now I live in New Mexico, working as a technician on a Gray Vireo study… and in another month I'll be moving to the Upper Peninsula of Michigan to work as a seasonal owl bander! I've been turning the drives to the next job into a long road trip and try to see as many new birds and new places as possible!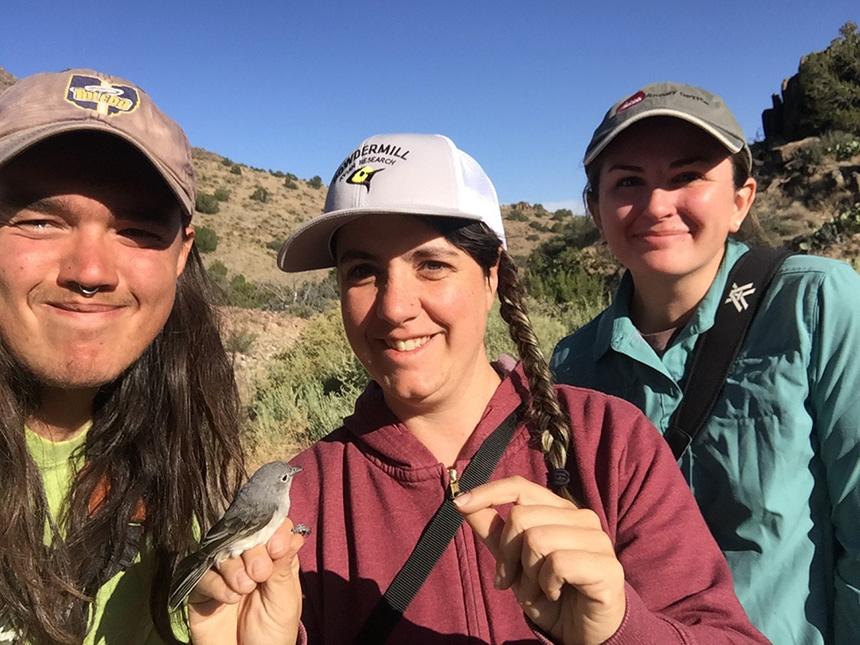 Silas, Sal, and Kandace with a Gray Vireo
Each seasonal field job is different, and I gain new experiences and knowledge from each one. If you think about a basic full annual cycle of a bird (breeding season, fall migration, non-breeding season, spring migration), that's a general idea of how most field data collection seasons are broken up. As in, some research focuses on the breeding season and looks to see when, where, and how a species may nest, how successful they are, etc. Often, this breeding season work involves a lot of nest searching, and if looking at nesting success, can involve the VHF radio-telemetry of fledglings after they leave the nest. Field data collection during migration seasons often involves bird banding in order to determine when and what type of birds move through a particular area. If migration banding is continued in one location for many years, researchers come to see population-level trends for each species they band. Though the breeding season is focused on more often in field research, birds may spend upwards of 9 months in their non-breeding range and thus, that habitat is just as essential to conserve as breeding habitat.
A Challenging Way of Life
This lifestyle sure isn't easy! For one, I have no sense of stability in my life. I move every couple of months to live in a new house with strangers I've just met for the first time, with only field clothing, bedding, books and other items I can fit in my small car. I get to see my family and friends in between jobs, and I do a lot of calling and facetiming friends from all over and sending postcards, but it isn't the same as getting to constantly see everyone in person and relationships suffer because of it. Hopefully one day I'll be able to settle back down in Columbus and remain close to friends and family!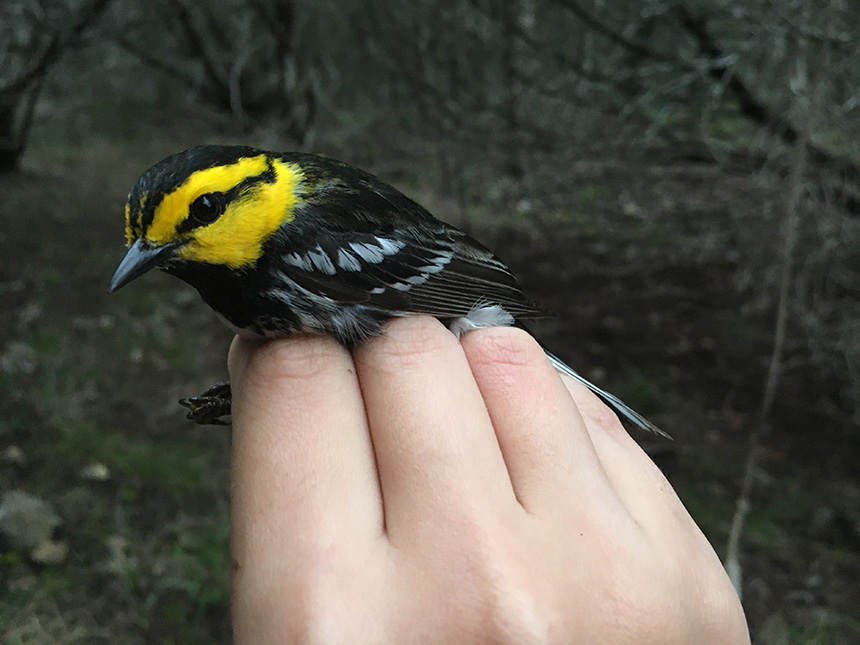 A Golden-cheeked Warbler in a "photographer's grip"
Traveling and working these various seasonal jobs is fundamentally for the purpose of gaining as much field experience as I can. By doing so, I'm learning a lot about field data collection methods, which will hopefully get me into graduate school so I can earn a Master's degree in Wildlife Biology or a similar field. These days, to have a career in Wildlife Biology you're essentially required to have at least a Master's degree, unless you want to work seasonal technician jobs your entire life (which I know of at least a few people who have done the seasonal gigs for 10-15 years and are still doing them!). At the moment, I love the travel and the sense of adventure, but I assume in a few years I'll be tired of it and will eventually want to settle down. I'll find a professor whose research interests me, contact them, and hopefully be able to do a Master's program at their university.
One day, I'll perhaps be employed as a biologist for the Ohio Division of Wildlife or the ODNR, or I could work for a non-profit like Black Swamp Bird Observatory on the research/conservation side of things, or I could work for a consulting firm as a biologist. The possibilities are endless, and I haven't yet figured out what I would like to do as a full-time job one day in the future. I'll keep working these seasonal jobs, and they will hopefully give me a better idea of what I want to do permanently. Either way, I hope to dedicate my life to the conservation of birds and the environment.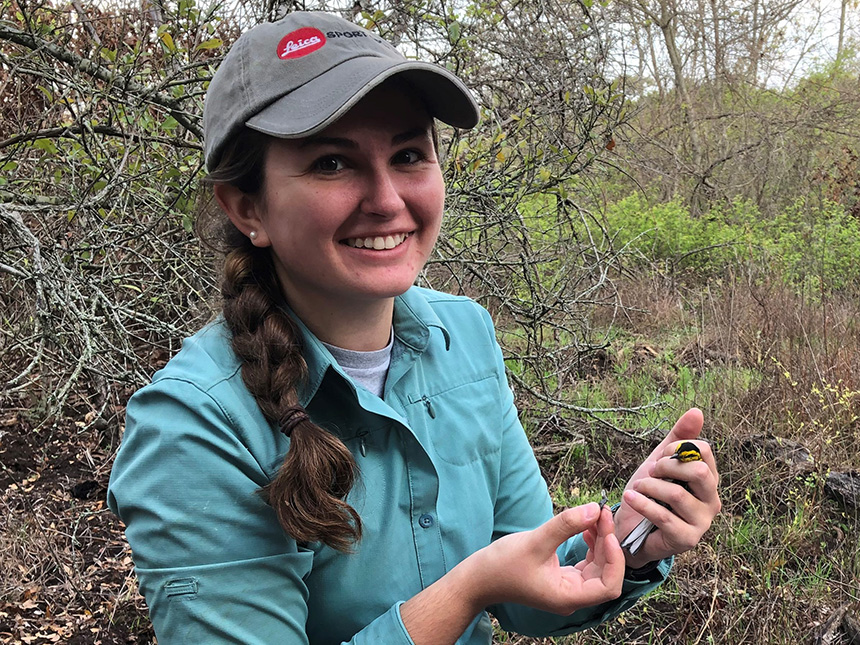 Kandace holding a Golden-cheeked Warbler