Join your fellow OOS members at Shawnee State Park for a celebration of Warblers and Wildflowers AND the OOS 15th Anniversary!
Not only will this event give you a chance to head south to meet the first big wave of spring migration, you'll also get to enjoy excellent presentations, the charm of the Shawnee State Park lodge, and the wonderful fellowship of a bunch of fun, avid birders. We'll gather on Friday evening for a social hour, welcome remarks, and a showing of the movie The Big Year. Afterward, there will be short outings for night birds, including owls and Chuck-Will's-widow, and a mothing station at the cabins.
Saturday we're up early for morning field trips, lunch in the field, then back to the lodge. Saturday evening we'll enjoy dinner in the banquet hall, review the day's sightings and run the check list, recognize some OOS all-stars, then enjoy the evening program by our very own Dr. Bernard F. Master. Following the evening program, we will have more owl and nightjar trips will be taken and we'll have a mothing station on the lodge's patio. Sunday we'll enjoy breakfast, our all-too-soon goodbyes and feel free to take field trips on your own.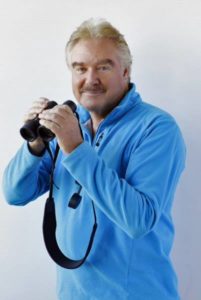 About Our Keynote Speaker
Bernie is an Ohio birder and conservationist after whom the Chocó vireo (Vireo masteri) was named. Master is the first American to have seen a representative of all 229 bird families in the world and has observed more than 7,800 birds in the wild. He is the author of No Finish Line: Discovering the World's Secrets One Bird at a Time. Bernie became a founding board member of the Ohio Ornithological Society in 2004. He served as a Governor of BirdLife International in Cambridge England and a former Vice-Chairman of The Ohio Nature Conservancy for 11 years. Dr. Master is a Vietnam veteran. He is married to Susan, and has three children and six grandchildren.
Accommodations & Rates:  
Shawnee Lodge & Conference Center
– Single or Double Occupancy Rooms – $106/night  –  Cabins (still available) – $142 / night
You must contact the lodge directly to reserve your room:
(1-740-858-6621) http://shawneeparklodge.com/ Code:  OOS
Every room rented helps OOS keep conference fees down and gives more $$$ to conservation!
EVENT REGISTRATION – NOW OPEN!!! 
Please select the number of attendees, as well as the number of meal options required for ALL attendees.
For example, If you are purchasing 2 event registration tickets, and would like to have all meals provided, then please set the quantity to "2" for each meal option. 
Lunch options (Roast Beef, Turkey, Vegetarian) will be available on the registration form.
2020 Warblers & Wildflowers Weekend


January 14, 2020 - January 25, 2020




3:00 pm
Address:
4404 OH-125
,
West Portsmouth
,
Ohio
,
45663
,
United States
Description:

Leave city life behind and roam the hills, valleys, lakes, and 63,000-acre Shawnee Forest at Shawnee Lodge and Conference Center. Explore the spacious Shawnee Lodge and Conference Center with attractions and amenities such as golfing along the banks of the Ohio River, cool off in the indoor or outdoor pool, boat, fish or explore some of the 65 miles of hiking trails.