Saturday – July 20, 2019
8:00 am – 10:30 am
Huffman Prairie, also known as Huffman Prairie Flying Field is part of Ohio's Dayton Aviation Heritage National Historical Park. The 84-acre (34-hectare) patch of rough pasture, near Fairborn, northeast of Dayton, is the place where the Wright brothers (Wilbur and Orville) undertook the difficult and sometimes dangerous task of creating a dependable, fully controllable airplane and training themselves to be pilots. Many early aircraft records were set by the Wrights at the Huffman Prairie.
The National Park Service currently operates this historic site where visitors may see the place where the Wrights developed the world's first practical airplane as well as replicas of their 1905 hangar and launching catapult. While the historic flying field is mowed short, simulating the grazed pasture used by the Wrights and allowing its use for re-enactment flights, an adjacent area of tall-grass prairie is maintained un-mowed, managed instead using late-season controlled burns. A nature trail winds among the prairie's tall grasses, diverse wildflowers, and occasional shrubs. The Huffman Prairie area is located within the Air Force Base, with a separate entrance and fencing between it and an adjacent runway and other modern base facilities.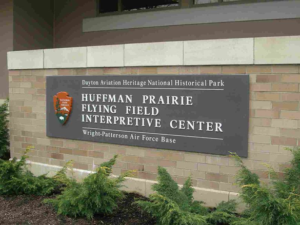 Huffman Prairie is located inside of Wright-Patterson Air Force Base in Fairborn Ohio.
The entrance to the Flying Field is next to the Twin Base Golf Club. Located here: 39.791700, -84.060286
The meeting area is the main parking lot near the bridge. Located here: 39.806873, -84.064716
The trail we will be walking around is mowed grass so it will likely be wet with morning dew. Insect repellent is always a good idea. This birdwalk will be free and target some of Ohio's grassland breeding birds (Sedge Wren, Bobolink, Dickcissel, etc.) and to see the spectacle of native wildflowers here. We truly think it might be the best prairie in all of Ohio and mid-late July really showcases its glory. Jacob Roalof, OOS Director-at-Large, will be your leader. You won't want to miss the opportunity to bird with this very talented birder. He will also be guiding and teaching all things grassland and prairie for attendees (management, history of the location, etc.)
Trip will be limited to 30 attendees. Contact via email at jroalef@kent.edu with any questions or concerns.