Join us for a Grassland Birding weekend near The Wilds on June 8 & 9, 2018. 
Friday night, Danny Ingold, Professor of Biology at Muskingum University, will kick-off this event with a presentation in Cambridge about the research he and his students have performed on grassland birds and reclaimed surface (strip) mine habitat.  Prof. Ingold describes his program as follows:
"During the summers from 2008 to 2011, we located 291 nests of grassland and shrubland birds in the northern portion of the Wilds (surface mines reclaimed between 1969 and 1984).  Red-winged Blackbirds, Eastern Meadowlarks and Grasshopper Sparrows were the three most prevalent nesting species.  The nests of six shrubland species found on this site were not found in this same area in 1997-1998.   Bobolinks and Grasshopper Sparrows had the greatest nest success among the grassland nesting species.  From 2013-2018, we conducted point-count transects in the Wilds to determine if bird abundance might be associated with the amount of time since land reclamation." 
Come to our event to learn the results of the study and how they impact what we birders are seeing in the field.
Saturday morning, we'll head to the grasslands surrounding The Wilds to search out our favorite Grassland birds (Henslow's Sparrows, Grassshopper Sparrows, Bobolinks, and more!) in the field.  Box lunches will be provided so that we can remain in the field continuing the birding into the afternoon!  This will be a fun-filled and educational weekend, and we hope you will join us.
Accommodations:
There are many choices of hotels in Cambridge.  The OOS has reserved rooms at the Sleep Inn located in Cambridge but you are not required to stay there.  If you wish to reserve a room at the Sleep Inn, you must contact the lodge directly to reserve your room:  (1-740-435-0035).  The rate is $89 for two queen beds.  Reserve by May 23rd and mention code OOS.  For more information about the hotel, click on the following link:  https://www.choicehotels.com/ohio/cambridge/sleep-inn-hotels.
Location:
Presentation:   Pritchard Laughlin Civic Center
Date/Time:  Friday, June 8, 2018 at 7:00pm
Address:  7033 Glenn Highway, Cambridge, Ohio, 43725, United States
Birding Field Trips:   The Wilds (main parking lot)
Date/Time:  Saturday, June 9, 2018 – Meet at 7:30am at The Wilds main parking lot (departures at 7:45am)
Address:  14000 International Road, Cumberland, Ohio, 43732, United States
Description:  The Wilds is a private, non-profit conservation center located on nearly 10,000 acres of grasslands, woodlands, wetlands and lakes on reclaimed mine land in rural southeastern Ohio.  The Audubon Society has recognized the Wilds as one of Ohio's Important Bird Areas, and birdwatchers from near and far have discovered the abundance of bird life here, especially for grassland birds. The public roads surrounding the property provide excellent habitat for grassland birds and viewing opportunities for birders.  Field trips for this day will be designed to maximize those opportunities for seeing birds like Henslow's, Grasshopper and Savannah Sparrows, Eastern Meadowlark, Bobolink, and Northern Harrier.
Price:  $50 (includes presentation, guided field trip, and box lunch of your choice.
Lunch Choices (select one):   Turkey, Ham, Roast Beef or Veggie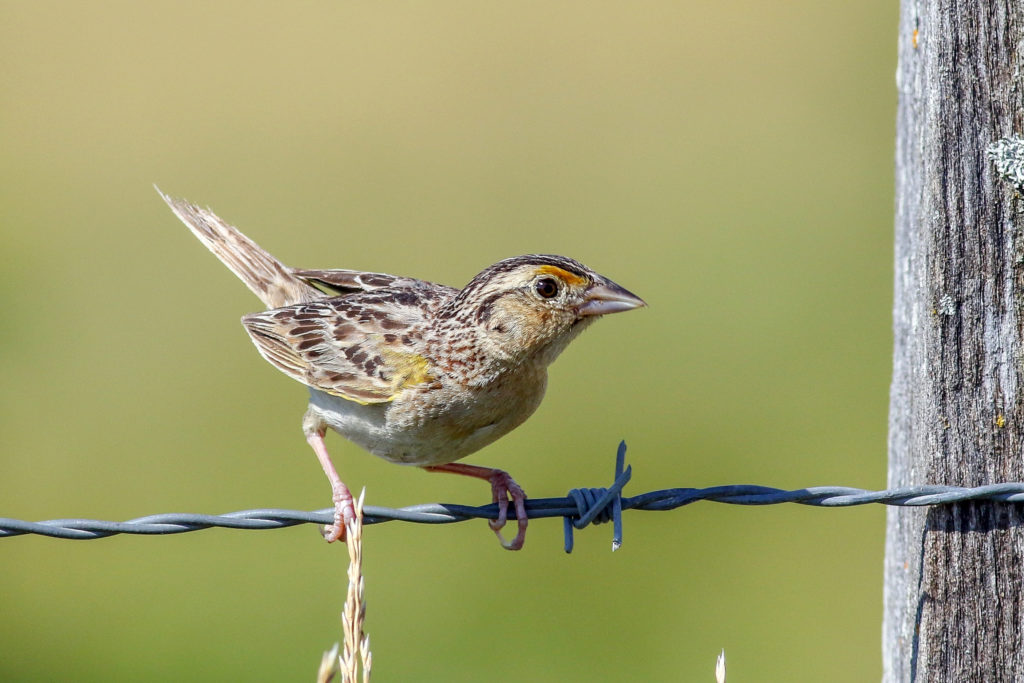 Presentation by Danny Ingold


June 8, 2018




7:00 pm - 8:30 pm

Bird Walk at "The Wilds"


June 9, 2018




7:30 am - 4:30 pm