SOLD OUT! – WAITING LIST AVAILABLE
The OOS will return to The Wilds on January 20, 2018, for the 14th annual trip to find wintering raptors! This event is a

THANK YOU

to all of the OOS members that help support our great organization! The Wilds is a large
reclaimed surface mine grassland area that has abundant wintering raptors and grassland nesting birds. While most of the region is rolling grassland, there are also areas of ponds, lakes, wetlands, spoils forest, and remnant hardwood forests. Wide-open vistas make this a great raptor-watching spot. Special species that we may find are: Golden and Bald Eagles, Rough-legged Hawks (Light & Dark Morphs), Northern Harriers, Short-eared Owls, Northern Shrikes and Eastern Meadowlarks. Open water areas can also attract a large variety of waterfowl. In the past we have seen such winter rarities as Long-tailed Duck, Greater White-fronted Goose, Snow Goose and Green-winged Teal. If we are very fortunate, we might get to see something like the Prairie Falcon that spent the winter in 2003-2004. Attendees will also have the opportunity to visit some of the animals on the property (on a behind-the-scenes tour) such as Southern White Rhinos, Greater One-horned Rhinos or Giraffes.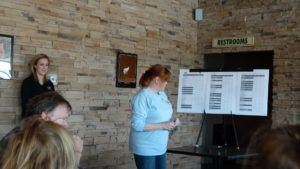 ******

PLEASE NOTE: THIS IS A MEMBER'S ONLY EVENT

******
*If you know someone who is not a member and they would like to attend the event, simply have them sign-up for an OOS membership! Members may also invite non-members to attend the event, but an OOS member must make the reservation.
*In addition, to help defray the cost of the event, we ask that each member contribute a

$10 donation

during lunchtime on the day of the event. All funds go to help The Wilds and their continued conservation efforts and scientific research!
******

YOU MUST REGISTER IN ADVANCE! REGISTRATION IS LIMITED to 120!

******
****DEADLINE FOR REGISTRATION IS DECEMBER 20, 2017****
It's that simple! Include the names and emails of all the members of your group.
*If you register for your entire group, you will be the primary contact person and you are responsible for forwarding all info to those participants, if we are not provided with an email address for them.
Once you register, Jason will contact you directly and supply you with detailed directions, maps, site locations, the names of your leaders, names of birders in your group, etc.
=========================================